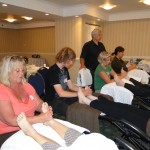 The Universal College of Reflexology defines Reflexology as… 
"Reflexology is a science based on the artful application of gentle pressure on reflex areas in the body, most usually hands, feet and ears, which produce harmony, health and homeostasis."
Reflexology is the firm but gentle massage and manipulation of the reflexes of the hands, ears and feet.  
It relaxes the body,
eases the mind, and
soothes the soul.
Foot reflexology or the firm but gentle manipulation or massage of reflexes in both feet has been passed on from generation to generation for centuries.  When humans first placed their feet on the earth's surface, they were naturally stimulated by walking and running over the uneven ground, but the introduction of sandals and shoes has reduced the feet's inborn sensitivity.
The origin of reflexology cannot be traced to any one civilization.  Evidence suggests that primitive forms of reflexology existed in ancient Egypt, India and China some 5,000 years ago
The fundamental principle of reflexology is that the feet mirror the body.